About Bath Fitter South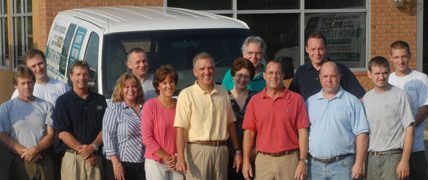 Bath Fitter South has remodeled hundreds of bathrooms and nearly every customer said they would recommend us to a friend. Please visit any of our local showrooms today.
Our Business Philosophy
Our business philosophy is very simple: Bath Fitter South will give you a top-quality product and superior service, from order through installation, at a very competitive price. And if something isn't right, we'll fix it as fast as possible. Reputations of excellence are built one satisfied customer at a time, so we strive to treat each customer as if you were the only one.
Our Installation Professionals
Rest assured, our installation professionals are among the most courteous, most highly-skilled bathroom experts in the business. Each technician we hire is a seasoned remodeling pro and is a company employee - NOT a subcontractor (so we have tight control over how they complete their work). But we don't stop there.
Before being assigned to install your bathroom, each member of the Bath Fitter South installation team is background-checked, licensed and fully-insured. Each then receives many months of on-the-job training, must pass a certification exam and maintain the rigorous standards required by BATH FITTER®. Additionally, each of our pros is assigned a variety of tools and equipment specially-engineered to do your job right, and to get it done efficiently.
To ensure your job is done to the highest standards possible, we measure key dimensions of customer satisfaction on every job. All of our customers will review and approve a final installation inspection form, to guarantee customer satisfaction. Not surprisingly, our installers pay very close attention to all of the details that matter most to you, such as quality of workmanship, thorough cleanup, demonstrating respect for you and your home - even on-time arrival for the installation appointment.
Since we specialize in bathroom remodeling - it's all we do - your installation pro has lots of experience installing our products. Many of our pros have completed over 200 installs, individually, over the past year. Also, we have a near zero employee turn-over rate.
Owned and Operated
Our owner, Louie Mullikin, is a long-time resident of Spartanburg and is actively involved in running our business. This ensures that we provide the quick, responsive, personalized service you would expect from a locally-owned company.
National Franchise
At the same time, we are part of a national franchise with more than 180 locations across North America. Our affiliation with a large, national company allows us to take advantage of substantial volume discounts on material purchases and enables us to pass along more savings to you. Our franchisor invests substantial resources every year to develop the best quality products and installation training programs in the industry, which ensures that you receive the best products and services possible. Since 1984, BATH FITTER® has remodeled hundreds of thousands of bathrooms.